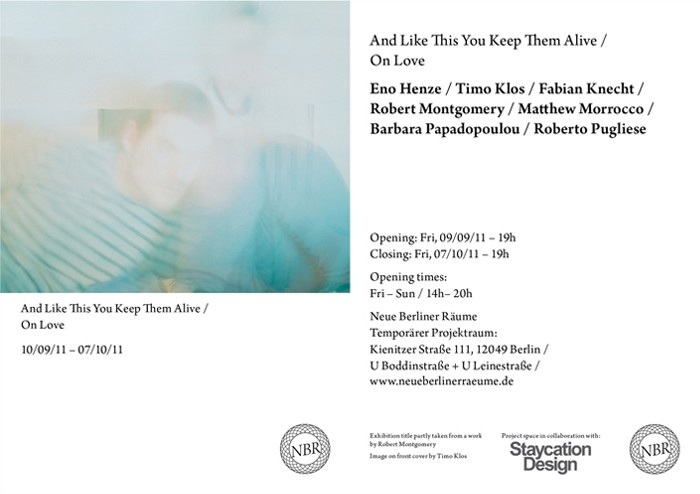 Neue Berliner Räume: "And Like This You Keep Them Alive"
Neue Berliner Räume is pleased to announce the official opening of its first temporary project space with the inaugural exhibition AND LIKE THIS YOU KEEP THEM ALIVE / ON LOVE.
The international group exhibition aims to draw attention to a wide spectrum of different and contrasting ideas, attitudes and perspectives that are closely connected to the notion of love. Each work formulates a unique understanding of what love does and is to us. At the same time, the exhibited works share a distinct reference to our apparently innate desire to relate in a meaningful way to others. The works approach the topic not simply as a cliché and kitsch imagination but as a lived reality.
Love is intrinsically tied to who we are. It is interwoven with our desires, affections and fears. It even occurs in its negation where we reject ourselves and others. It is inscribed into our bodies and minds – as a concrete practice and an abstract idea. Thus in the way we love, we find a complex and often bewildering reflection of our very identity. And in confronting us with different representations of love, the exhibition invites us to reflect on our own understanding and concept of love and on how it is connected in a myriad ways to our constantly changing self.
Because love touches on the very core of ourselves, to look at the way we love is always already to look beyond the obvious and to address an unsettling complexity that cannot be explained away.
AND LIKE THIS YOU KEEP THEM ALIVE / ON LOVE features seven international artists: Eno Henze (DE), Timo Klos (DE), Fabian Knecht (DE), Robert Montgomery (UK), Matthew Morrocco (USA), Barbara Papadopoulou (DE/GR) und Roberto Pugliese (IT). NBR is particulary pleased to present for the first time in Berlin a work by Robert Montgomery, which partly features in the exhibition title.
Link: Neue Berliner Räume