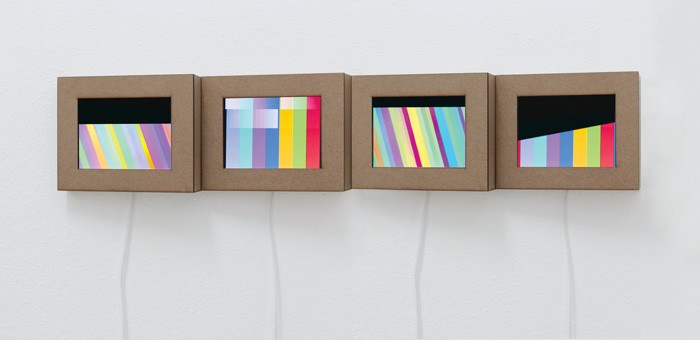 Marcelina Wellmer: Missing Files
Vernissage:
Thursday 24.01.2013
19:00–22:00
Exhibition:
25.01.–25.02.2013
open Friday 01., 08., 15. & 22.02.
17:00–19:00 and by appointment
Although most works by Marcelina Wellmer emerge from the realm of painting, their visual message is enhanced by a generative factor and connected with electronic devices. In generative art practice, an artist programs initial parameters, leaving most of the work to be processed out by a computer. This hybrid of media is enabled by contemporary computing technology, however the artist's attitude is not purely technological. The randomness is one of their most important qualities, changing an image derived from an industrial cityscape into a set of variable figures and colors.
The noise in Wellmer's works is audiovisual, particularly in the series Missing Files (2011), that consists of screens with digital images and painted canvas. This work is inspired by the incompatibility of files, caused by the numerous copying operations within a computer. The illegible remains of audiovisual projects are revealed and processed, so the categories change completely: both paintings and digital images lose their functionality, receiving different features. The processing of rejected and damaged components is a strategy of cultural garbology, based on re-using the content of the digital rubbish As a result of using the redundant data, both digital images and regular paintings are remediated and shifted into a new aesthetical dimension.
(Text: Ewa Wojtowicz, PhD.)
Staycation Museum leads an exhibition and performance program leaning heavily into the spatiotemporal, sensual, phenomenal, meat-spatial realm. Our cozy space offers a large shop window on vibrant Weserstraße in the Neukölln neighborhood of Berlin.
Link: Marcelina Wellmer